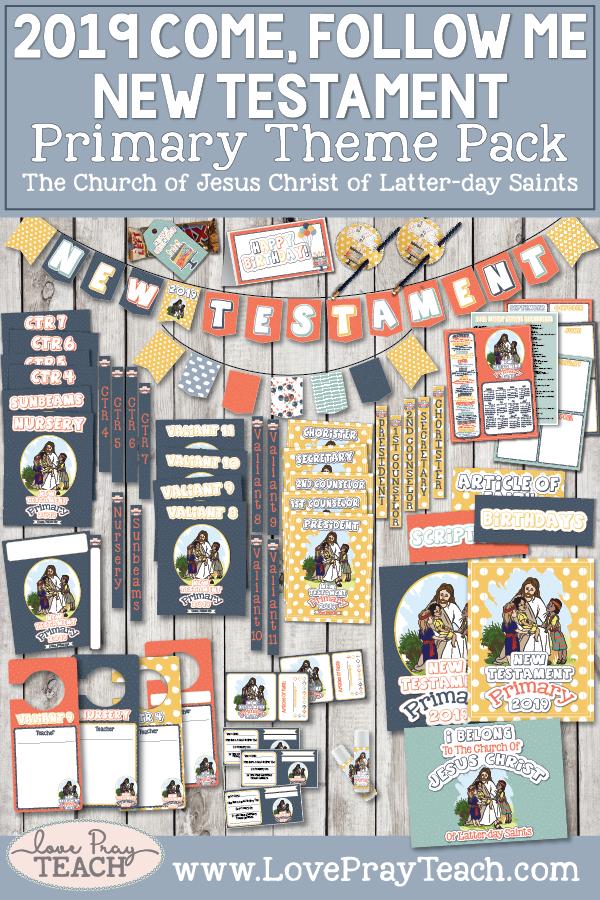 Come, Follow Me—For Primary: New Testament 2019 FULL Theme Pack - Includes ALL 5 Packets in ONE!
Description
Come, Follow Me—For Primary: New Testament 2019 Theme Pack for Non-Subscribers
Come, Follow Me—For Primary: New Testament 2019
Come, Follow Me—For Individuals and Families is a series of resources just announced by the First Presidency that will help individuals and families to more effectively study the scriptures at home. The first of these resources will focus on the New Testament, which is the course of study for youth and adult Sunday School and all Primary classes except nursery in 2019.
"Living by and reading the word of God," the First Presidency says, "will build faith in Heavenly Father and His plan of salvation and in the Savior Jesus Christ and His Atonement" (First Presidency letter, June 29, 2018).
Our Theme pack is designed around the focus of study on The New Testament.


The Full Theme Pack Includes 5 Separate Packs
Presidency Essentials Pack:
Editable Classroom Door Hangers
Editable Assignment Stickers
Editable Articles of Faith Punch Cards
Chapstick Labels
Presidency Binder Pack:
Binder Covers
Spine Inserts
12 Month Calendar
Monthly Suggested Song List
2019 Lesson Schedule
Monthly Planning sheets
Primary Teacher Binder Pack:
Binder Covers
Spine Inserts
Editable Binder Cover
Editable Spine Insert
12 Month Calendar
Monthly Song list Suggestions
2019 Teaching Schedule
Bulletin Board Pack:
Banner in 2 Sizes
3 Posters as JPGs and PDFS in the following sizes
8.5x11
8x10
11x14
16x20
Bulletin Board Title Strips
Birthday Pack:
Birthday Treat Tag
3x5 Folding Birthday Card
4x4 Round Pencil Topper
Chapstick Labels
IMPORTANT:
Please add [email protected] to your email contacts. You will receive 2 emails once you have finished your purchase. The first one will be a receipt, the second email will contain your download link. Please email [email protected] if you have any problems getting your link.
Our lesson packets are PDF downloads. No physical item will be mailed to you.

THIS IS INCLUDED IN THE PRIMARY SUBSCRIPTION already - no need to purchase if you have a subscription. Save money and become a member! Click here for more info.