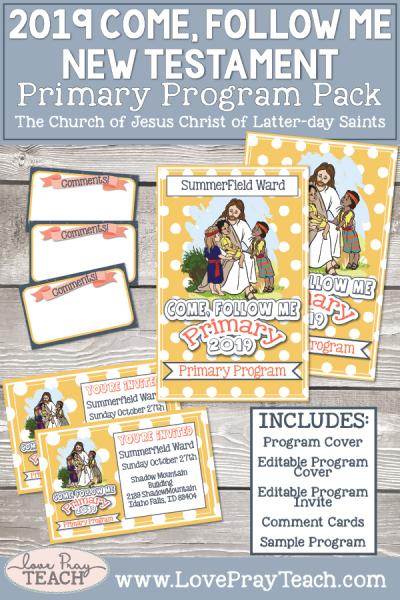 Come, Follow Me for Primary 2019- New Testament, Primary Program Packet
Description
Come, Follow Me for Primary 2019- New Testament, Primary Program Packet

Let us help make your day a little easier! We know how hard it is to plan the Primary program each year. And this year, you only have about half an hour to fit everything in! We have included a sample program that one of our team members helped create for her primary. You can use this to help you get started in making your own program!
Edit the program cover and invite using free Adobe Reader!
Hand out the comment cards to those in the congregation to let the children know how much they loved the program! Since we don't have Sharing Time any more (where many wards liked to read the comment cards) you can hang up the cards on your Ward bulletin board, or use Singing Time for a little party and read some of the cards to your children as they sit in a circle on the floor.
We've included everything in black and white also if you'd like to save money and use your building's copy machine! Print on colored paper for an extra touch.
Download Includes:
Program Cover (Half Page)
Editable Primary Program Cover (Half Page)
Editable Primary Program Invite (4 on a page)
Primary Program Comment Cards (8 on a page)
All PDFs also available in Black and White
Sample of a 27 minute Primary Program for 2019!