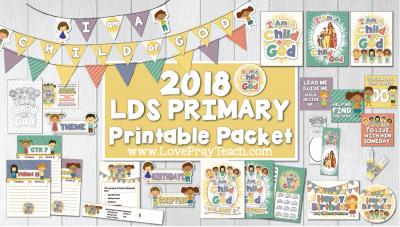 2018 Primary Theme Printable Packet: "I Am a Child of God"
Description
2018 Primary Theme packet for non-subscribers
Included in this packet:
Bulletin Board Printables:
3 Poster designs in 7 different sizes!
2 Banner Designs (punch a whole in the top two corners and thread the string through - super easy!)
8"x'8" images to help you decorate your Primary room!
2 Designs for Headers that include "Theme" "Birthdays" and "Scripture". There are also blank headers provided if you'd like to add your own!
15 Matching Digital Scrapbook papers to help you decorate your room and use throughout the year!
Binder Covers/Spine Insert Printables:
Classroom Binder Covers and Spine Inserts, including Nursery!
Presidency Binder Covers and Spine Inserts
Chorister and Pianist Binder Covers and Spine Inserts
Back Binder Cover that includes the Monthly Themes, scriptures, and 2018 Calendar for quick reference!
Door Signs:
Door signs for Nursery, Sunbeams, CTR 4-7, and Valiants 8-11
1 Door sign that fits 2 classes on one page! Comes in an editable version that you can use Adobe Reader to add the Room #, Class Names, Children's names, and Teachers!
Extras:
Sharing Time Assignment Cards
Sharing Time Assignment Wristbands for the little ones so they don't lose their assignment before it reaches Mom and Dad!
Birthday Cards - There are 2 version - Boy and Girl. There are 4 to a page and the children are all different ethnicities
Birthday Circles - These are really cute attached to a treat or baggie of treats/gifts!
Chapstick Covers - a fun little gift that's inexpensive and easy to make!
Bookmarks - 2 versions include one with a picture of Jesus with the little children and another with a blank oval for the children to draw a picture of themselves! Both versions include full color and black and white.
Editable Primary Program Invitations - you can add your Ward's information using Adobe Reader to these cute invites! There is a full color version included that is 4x6 for easy printing, or a black and white version to have the children color themselves! The Black and White version is 2 on a 8.5x11 page for easy photocopying
Primary Program Ward Bulletin Cover - Includes a full color version and a black and white version
You can find our Monthly Posters by clicking here and our Articles of Faith Posters by clicking here
IMPORTANT:
Please add [email protected] to your email contacts. You will receive 2 emails once you have finished your purchase. The first one will be a receipt, the second email will contain your download link. Please email [email protected] if you have any problems getting your link.

THIS IS INCLUDED IN THE PRIMARY SUBSCRIPTION already - no need to purchase if you have a subscription. Save money and become a member! Click here for more info.