|
author/source:
Megan Hanson
2019 Mutual Theme:
"If ye love me, keep my commandments" (John 14:15)
Printable Packet for Latter-day Saint Young Women
The church has announced the Mutual Theme for 2019! Read more about it by clicking here.
Don't you think this is such a perfect scripture for our Youth to learn all year long? My very favorite teaching moments are when I get to teach about our Savior. I think there will be so many ways we can use this scripture throughout the year to help the Youth learn more about the gospel and the love Christ has for each of us. I can't help but think of President Nelson's challenge to join the Lord's Battalion when I read this scripture!
Our beautiful image of the Savior was done by Hannah Wood. You can view more of her amazing artwork on her up and coming website: hannahwoodcreates.com
This year, we are offering 4 separate packets:
Binder Inserts:
Included in this packet:
Binder Covers and spine inserts for the Young Women Presidency, Laurels Presidency, Mia Maids Presidency, and Beehives Presidency. There is a also a binder cover with just the theme.
12 Month Calendar that includes the monthly theme and lessons
2019 Teaching Schedule Page that has the dates of when the Young Women will meet and Sundays and place to write down who is teaching
2019 Weekly Reading Schedule this page has the New Testament reading schedule that follows what they need to be reading at home and for Sunday School. We have been asked to remind our classes each week what they need to read for the following week!
"Counsel Together and Share Experiences" Page This page contains the section in each of the Young Women lessons.
Monthly Themes and Lessons Page a quick glance page of all of the monthly themes and the lesson titles for each month
Blank Notes Page
(The Binder Inserts have been updated to reflect the new teaching schedule. The months have been removed next to the lesson names. I also removed the lesson titles on the calendar pages)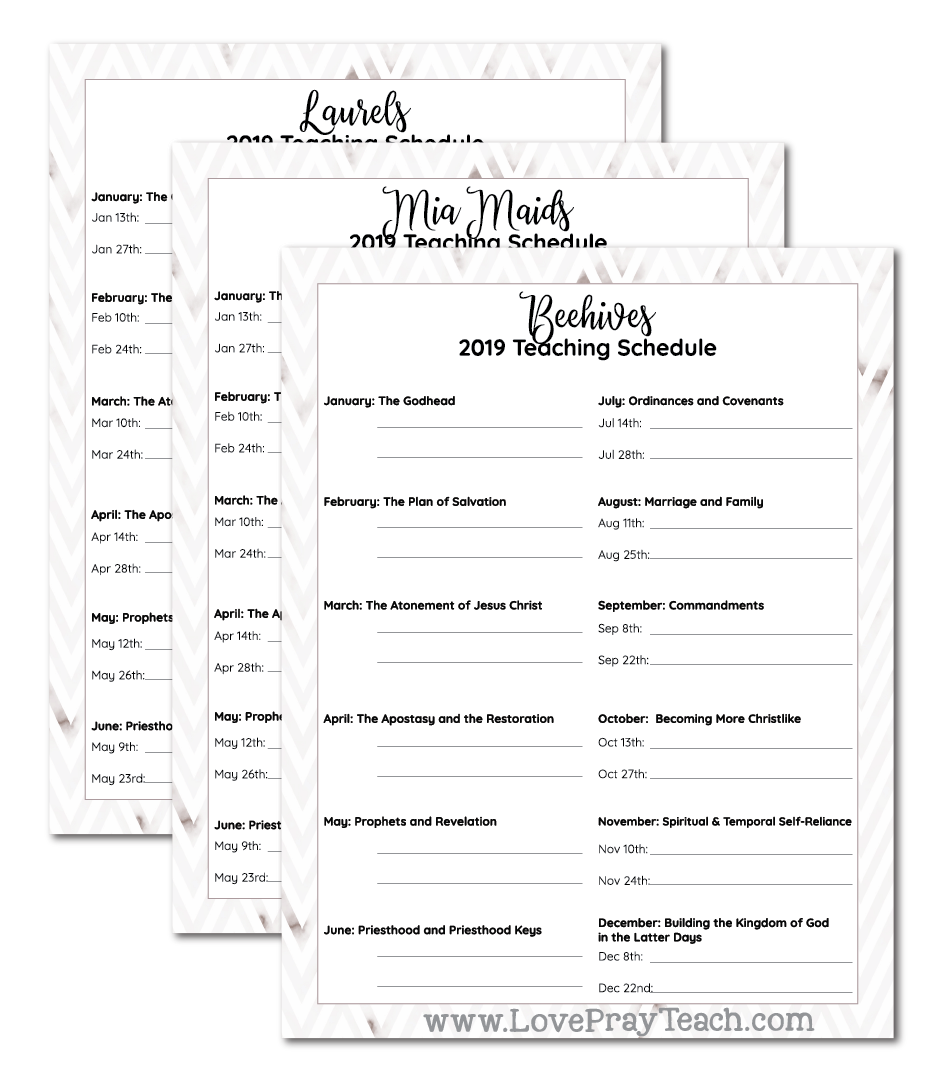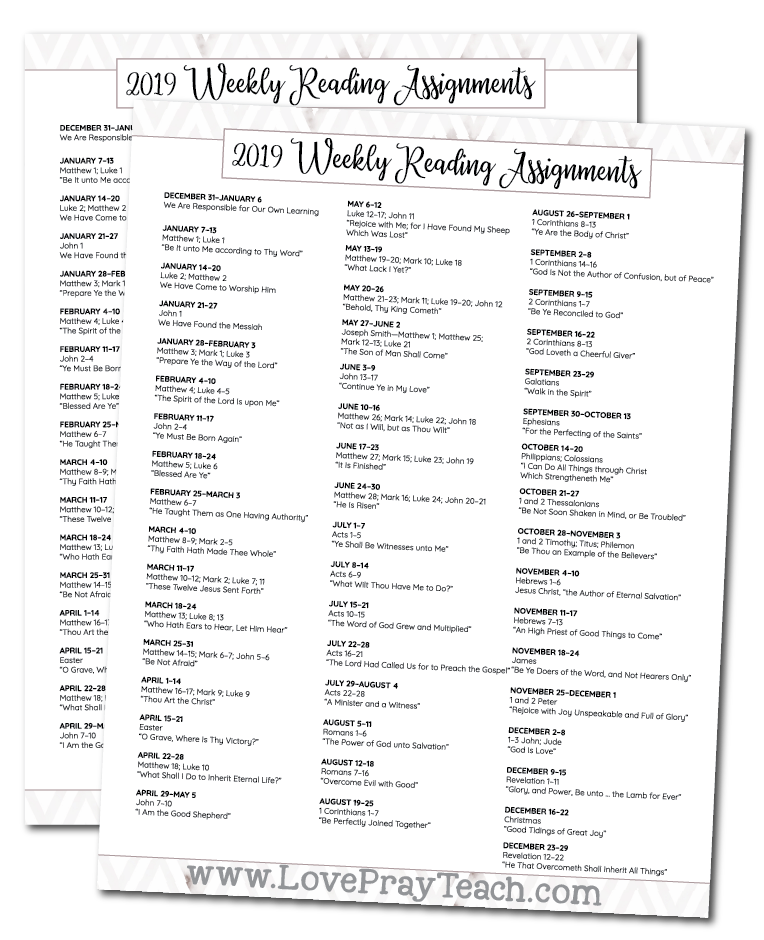 Bulletin Board Packet:
Decorate your Young Women's room or an Event with our beautiful Bulletin Board Packet!
Three Poster Designs with the 2019 Theme and the Main Young Women Theme Poster as JPGS and PDFS in the following sizes:
4x6
5x7
8x10
8.5x11
11x14
11x17
16x20
24x36
Packet also includes
a banner in 2 sizes
8" circles that include the image of Christ, gold heart, and the yearly theme
8" geometric heart, 6" geometric heart, and 4" geometric heart!
Also included is a 16x20 poster of the 2019 Mutual Theme in block letters. This is perfect to use for Mutual night since it's not feminine and easy to read!
Young Women Events Packet:
Our Events Packet includes many things that you will need for a beautiful event! These are perfect for New Beginnings or Young Women in Excellence for 2019.
This packet includes:
Banner in 2 sizes
3 Invitation designs that are editable in Adobe Reader (JPG versions also included)
Editable Name Tents (JPG version also included)
2" circles that are perfect for cupcake toppers or stickers

Young Women Birthday Packet: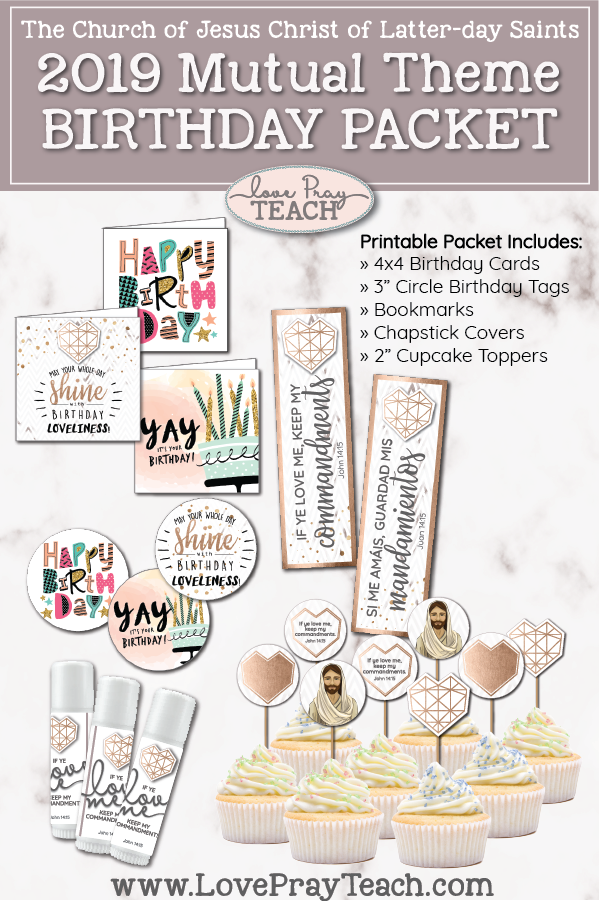 Our birthday packet includes:
4"x4" birthday cards in three designs
3" Circle tags in three designs - these are perfect attached to a ribbon and tied around a package or bag
Bookmarks in English and Spanish
Chapstick Covers
2" Circles perfect for cupcake toppers or stickers
If you like our packet, please share by pinning any of our collages or sharing this article on Facebook! We appreciate the support!
Save money and purchase all 4 packets in one ULTIMATE PACKET!