Click the "Download PDF" button above to download the entire lesson packet. The file will appear in a new window. If nothing happens, then you probably have a pop-up blocker on that will need to be disabled. This is a large file so please be patient when downloading. If you have trouble with the PDFs, click here to download the pages as JPGs. This will be a zip file that will download to your computer and you will need to "unzip" it to view the files. To unzip a file: if you have a mac, double click on the file name; if you have a PC, right click on the file name and select "extract"; If you are on an iPad, you will need to install an app in order to unzip the file.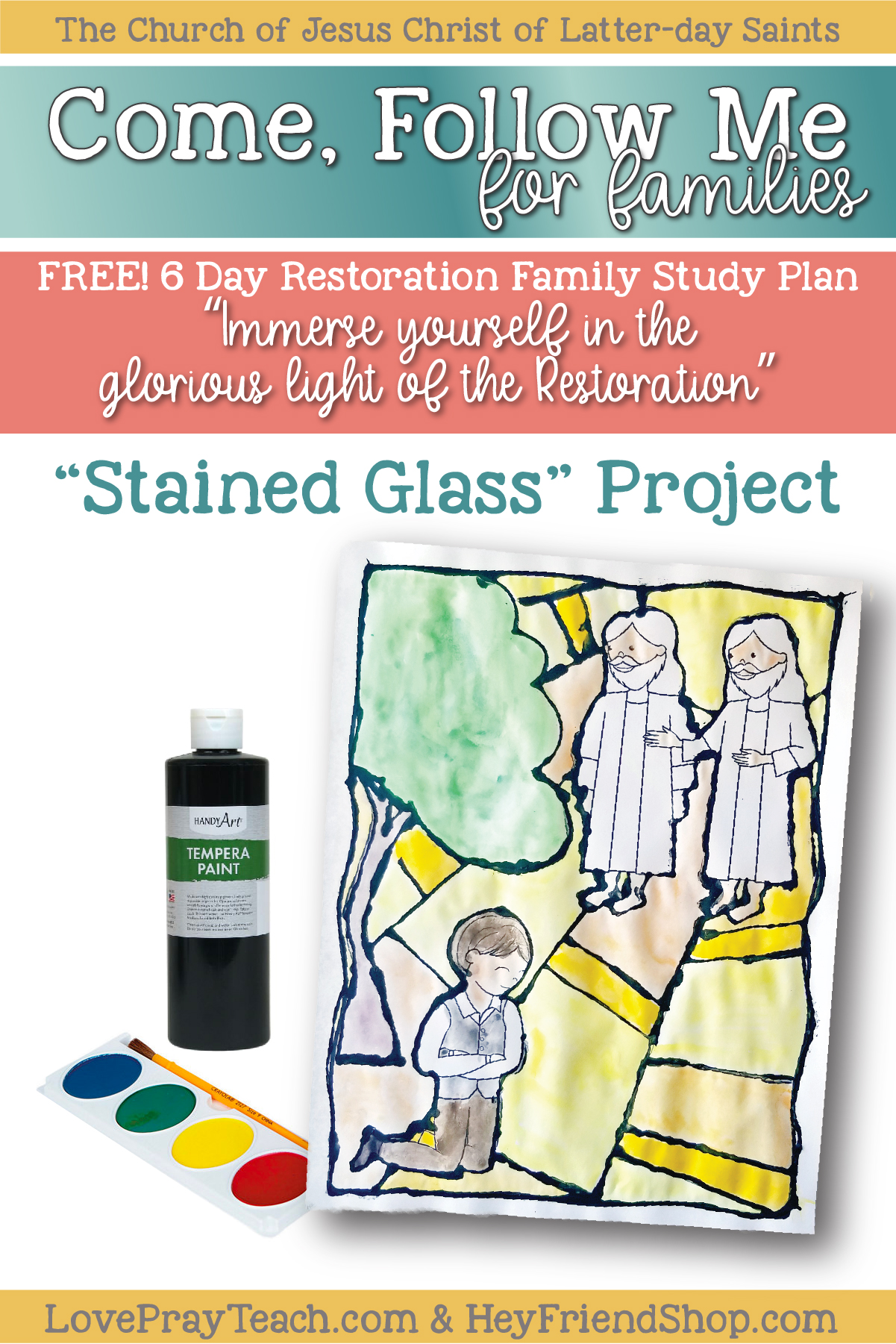 We have collaborated with Emily from HeyFriendShop.com to bring you this amazing Family Lesson Packet to help your family learn more about the Restoration of the Gospel! We hope it will bless your lives as you prepare for General Conference.
This packet has been designed to be used for families of ALL ages! We have included study articles for the adults/teens for each day, plus a truly unique Restoration Journal that can be used for children of all ages (I'm even making them for my teens!) We've also included a couple fun activities for your little ones who can't write yet.
This packet is broken up into 6 sections. We suggest starting on March 29th and do one section each day. Then you will be ready for General Conference on April 4th!
Links: If the words on the instruction page are blue, then that is a clickable link. The QR codes are also clickable links.
QR Codes: Our packet contains several QR codes:

To use the QR Codes: You will scan the QR codes using your phone or iPad. The best way to figure out if your device can read QR Codes is to open your Camera app and point it steady for 2-3 seconds towards the QR Code you want to scan. Whenever scanning is enabled, a notification will appear. If nothing happens, you may have to go to your Settings app and enable QR Code scanning. If QR Codes isn't an option in your settings, your device unfortunately can't scan QR Codes natively. But don't worry, this only means you'll have to download a third-party QR Code reader app. If your camera isn't working on the QR code, just go to your APP store and download a QR Scanner app. Then follow the instructions within the app.
If you're not printing the main page, the QR codes are also clickable links! Open the PDF in your computer, click on any of the QR codes, and they will take you to the website.