Have you heard yet what the 2018 Mutual Theme is going to be?! I was so excited when I read it:
Doctrine and Covenants 19:23: "Learn of me, and listen to my words; walk in the meekness of my Spirit, and you shall have peace in me" (emphasis added).
Isn't that such a beautiful scripture? To me, this scripture will help bring the basics of the gospel into the lives of our Youth. Speaking, learning, and teaching about Christ will increase testimonies. In a world of ever increasing noise, learning where true peace comes from will be a blessing in each of our lives.
To help you with next year's theme, I have designed two correlating posters - and giving them away for free! And this year, I am also including the posters in Spanish! These posters are 8.5"x11" so they are easily printed on your home printer. You can use these as binder covers, to decorate your classrooms, to introduce the theme to the Young Women, or as gifts.
Our full packet is now available and is included with our Young Women Membership and available for sale in our store!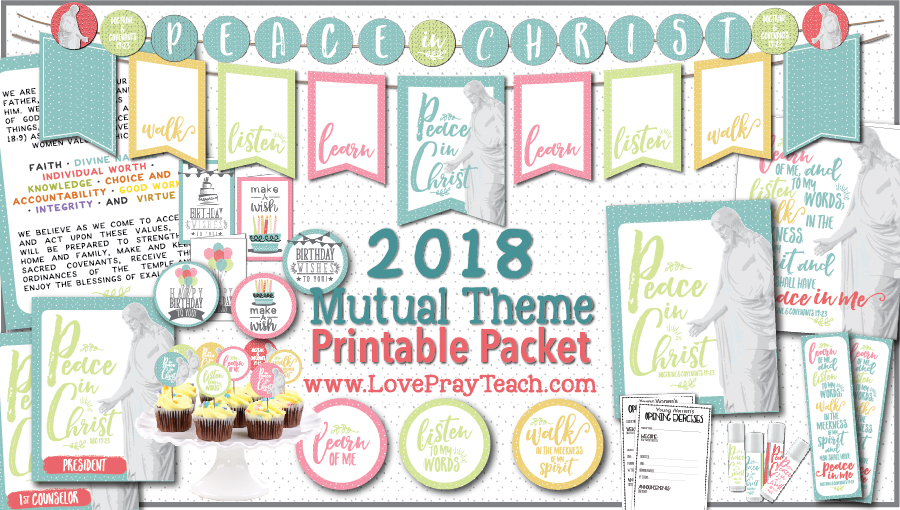 Included in our 2018 Mutual Theme Packet:
Presidency Binder Covers
Birthday Cards
Bookmarks
Posters in various sizes
4x6 and 5x7 JPGs of the Poster designs
Chapstick covers
Stickers
Conducting Sheet
Banners
If you enjoy these free printable posters, please share this post with others by Pinning or sharing on Social Media!