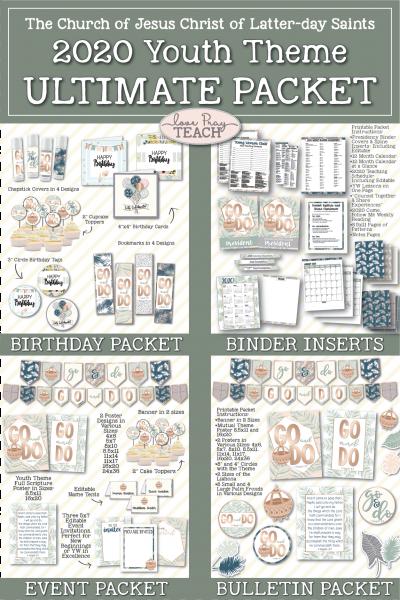 2020 Youth Theme: "Go and Do" (1 Nephi 3:7) ULTIMATE Printable Packet for Latter-day Saint Young Women
Description
Instant Download
2020 Youth Theme:
"Go and Do" (1 Nephi 3:7)
Printable Packet for Latter-day Saint Young Women
The church has announced the Youth Theme for 2020! Read more about it by clicking here.
We have designed these posters using the Liahona as our inspiration! We know that as we study the Book of Mormon in 2020 for our Come, Follow Me studies, the Youth will gain a deeper understanding of the Liahona and the scripture to "Go and Do!" Our dear prophet is a man of action, and he has lit a fire in all of us to do better, work harder, serve more, and be more accepting of others. I think this year's theme is going to be right in line with everything President Nelson has been teaching us and will continue to teach us.
I can't help but think of President Nelson's challenge to join the Lord's Battalion when I read this scripture!
This ULTIMATE packet contains 4 separate packets:
Binder Packet:

Included in this packet:
Binder Covers and spine inserts for the Young Women Presidency, Young Women Class, and a blank header that is editable in Adobe Reader. There is also a binder cover and spine with just the theme.
12 Month Calendar that is editable in free Adobe Reader

12 Month Calendar at a glance a quick glance page of all 12 months
2020 Teaching Schedule Page that has a place to write down who is teaching.
FREE 2020 Teaching Schedule Page (with the new changes to the lessons, there are only 6 months listed. Click here to download the Teaching Schedule page for Jan-June. We will post one for July-December as soon as those lessons are released. Please come back to this page to download. We cannot email it to everyone that previously purchased!)
2020 Weekly Reading Schedule Bookmark This bookmark has the Book of Mormon reading schedule in a more compact form for the young women to carry wherever they want!
"Counsel Together and Share Experiences" Page This page contains the section in each of the Young Women lessons.
Young Women Come, Follow Me Lessons Page a quick glance page of all of the themes and corresponding lesson titles (We are aware that these lessons may change for 2020. If they do, we will redo this page. You can come back and download your purchase again to get the updated pages!)
Blank Notes Pages
8.5x11 Pattern Pages These pages are the patterns used throughout the packet. You can use them for cut outs, backgrounds, or whatever else you need!

Bulletin Board Packet:
Decorate your Young Women's room or an Event with our beautiful Bulletin Board Packet!
Two Poster Designs with the 2020 Youth Theme in the following sizes:
4x6
5x7
8x10
8.5x11
11x14
11x17
16x20
24x36
Packet also includes
A banner in 2 sizes
3 circles with the youth theme in sizes 8" and 4"
Liahona in large and small sizes
8 small palm fronds and 4 large palm fronds in different designs
IMPORTANT: We would have LOVED to have added the new Young Women Theme in this year's packet. Unfortunately, the Church is not giving permission to have it included, even it it was free. We know you have probably seen the Theme all over the internet with people selling them or giving them away. Please be aware that this is something that the Church has specifically asked us not to do. If you'd like to download them from the Church's website, you can do that by clicking here.
Also included is a 16x20 poster of the 2020 Youth Theme in block letters. This is perfect to use for Youth Activities since it's not feminine and easy to read! It also comes in 8.5x11.
Young Women Events Packet:
Our Events Packet includes many things that you will need for a beautiful event! These are perfect for New Beginnings or Young Women in Excellence for 2020.
This packet includes:
Banner in 2 sizes
3 Invitation designs that are editable in Adobe Reader
Editable Name Tents
2" circles that are perfect for cupcake toppers or stickers
Full Youth Theme Scripture in sizes 16x20 and 8.5x11
Two Poster Designs with the 2020 Youth Theme in the following sizes:

4x6
5x7
8x10
8.5x11
11x14
11x17
16x20
24x36

Young Women Birthday Packet:
Our birthday packet includes:
4"x4" birthday cards in three designs
3" Circle tags in three designs - these are perfect attached to a ribbon and tied around a package or bag
Bookmarks with Youth Theme in four different designs
Chapstick Covers
2" Circles perfect for cupcake toppers, stickers, or magnets
IMPORTANT:
Please add [email protected] to your email contacts. You will receive 2 emails once you have finished your purchase. The first one will be a receipt, the second email will contain your download link. This download contains a PDF file that includes a zip folder link. The zip folder will need to be "unzipped" to access the files.
(We are having issues with Comcast emails being undeliverable. If you have a Comcast email, please use a different email or follow the instructions below to make a free account to download instantly. You must be logged in BEFORE ordering to download instantly.)
You can also sign up for a free membership for INSTANT DOWNLOAD. Make sure you are logged in when you order. Then click on "My Account" in the toolbar and click on "My Orders." You can download your purchases instantly!
Please save your PDF download on your computer where you can refer back to it often. The PDF download page contains the link you'll need to access all of the files. Do not download your PDF onto your phone or iPad if you are going to open the files on a computer - there is a 5 time download limit of the PDF. It will be easier for you if you download the PDF onto your computer. You can download the zip folder that is contained in the PDF download as many times as you need to. (This will make much more sense when you see the download!)
Email i[email protected] if you have any problems getting your downloads.

THIS IS INCLUDED IN THE YOUNG WOMEN SUBSCRIPTION already - no need to purchase if you have a subscription. Save money and become a member! Click here for more info.