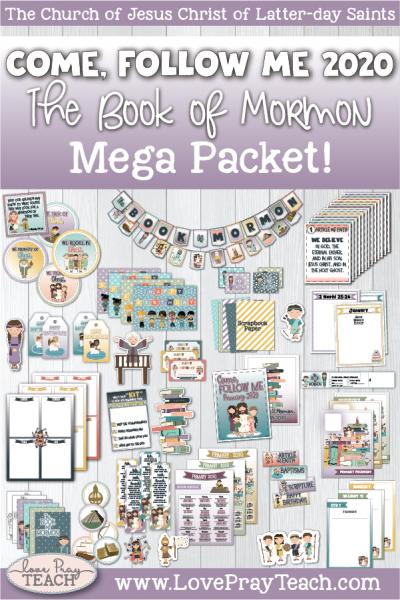 2020 Book of Mormon Come, Follow Me Primary Printable MEGA Packet
Description
Come, Follow Me—For Primary: Book of Mormon 2020 Download For Mega Packet! Non -Subscribers
2020 Book of Mormon Come, Follow Me Primary Printable MEGA Packet
Our MEGA PRINTABLE PACKET includes ALL 5 Packets in 1!
(Keep scrolling down for a closer look!)


BINDERS PACKET:
Included in the Packet:
Binder covers and spine inserts for Primary Presidency, Chorister, Pianist, & Teachers,
and a blank editable header & Spine.
2020 weekly lesson schedule for Book of Mormon(one page);
2020 weekly song schedule for Singing Time(one page);
2020 weekly schedule for Singing Time & Book of Mormon Lessons(one page)
Monthly Planner & Editable Blank version
Blank notes
p
age



BULLETIN BOARD PACKET:
Large and Small Banner
The Book of Mormon Poster 8.5x11 and 11x14
Come, Follow Me Poster 8.5x11 and 11x14
Title Board strips, Large and Small
Character Cutouts and Bulletin Board Embellishments
Editable papers for Birthdays, Scripture and Baptisms
2 Nephi 25:26 Scripture Cutout Embellishments


DOOR SIGN PACKET:
INCLUDED IN THE PACKET:
Half Sheet EDITABLE door signs
-Nursery
-Junior Primary
-Senior Primary
Blank FULLY EDITABLE signs



EXTRAS PACKET:
INCLUDED IN THE PACKET:
Birthday cards in 4 designs
Happy Baptism Day tags with Boy & Girl
Bookmarks in 4 designs
Chapstick labels
"The Book of Mormon" Personalized book covers with boy & girl in 4 different designs
Happy Birthday! Bishop's Bucks in 3 designs
B
aptism Covenant Kit Kat Handout
Assignment wristbands



ARTICLES OF FAITH PACKET:
Pdf and JPG format for each Article of Faith
Includes: 8.5x11, 8x10, 11x14
IMPORTANT INFORMATION ABOUT EDITABLE PRINTABLES:
The MEGA Packet includes editable Binder Covers, Spines, Monthly Planner, & Door Signs. They are editable in Adobe Reader! Click here to download Adobe Reader for free. To edit the text type, color, or size for the names click on Control e on a PC or Command e on a Mac for the editing toolbar to appear. If you have any problems, please let us know [email protected]
You can download the matching fonts free for personal use at DaFont.com.
The 2 fonts you will need are:
These download as a zip file.
IMPORTANT: